ブログ
PHC Gender Clinic
公開日|2023.06.09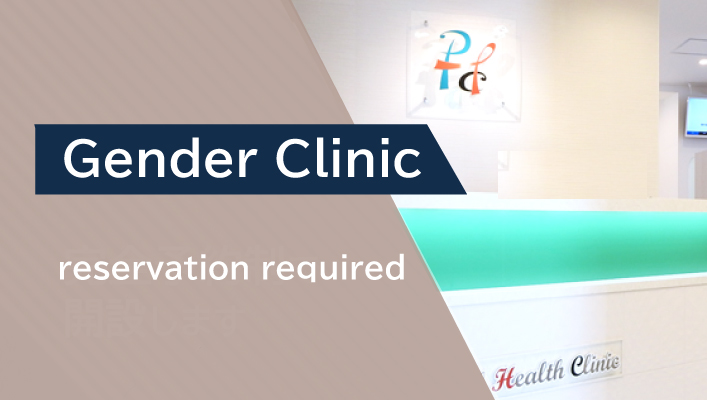 We are committed to being an LGBTQ+ friendly clinic, and we will open a [Gender Clinic] from June 2023 to provide further support for those with Gender Dysphoria and Gender Identity Disorder.
Dr. Shin Ikebukuro, a transgender specialist (certified by the Gender Identity Disorder (GID) Society), will be examining you, so please feel free to come.
【Gender Clinic Schedule】
June:
12th Monday, 16:00-20:30
26th Monday, 16:00-20:30
July:
10th Monday, 16:00-20:30
15th Saturday, 12:00-15:00, 16:30-20:00
24th Monday, 16:00-20:30
※Only those with reservations are seen, so please make an appointment in advance. We also accept reservations by phone.
What is transgender?
A person who was assigned one gender and who identifies a different gender. They may desire to assume the associated physical characteristics, and undergo hormone or surgical treatment for that purpose.
Difference from GD (Gender dysphoria)
Gender dysphoria is a term that describes a sense of unease that a person may have because of a mismatch between their biological sex and their gender identity. The term Gender Identity Disorder (GID) was used before since this condition used to be considered a mental disorder, but in recent years it has been understood as "gender diversity". The American Psychiatric Association has dropped the word "disorder" and changed the name to Gender Dysphoria (GD).
The terms "transgender" and "gender identity disorder" are often confused, as people with gender dysphoria have a condition in which they desire gender congruence and wish to have surgery or treatment to bring them together, while some "transgender" people do not desire physical treatment, so transgender is a broader concept, encompassing gender dysphoria within it.
Medical Treatment:
[Counseling]
If you have gender dysphoria, we will first listen to you and give you advice on what you can do and where you can start.
We will diagnose and discuss gender dysphoria, hormone therapy, and possible surgery (referral will be made if surgery is desired).
If you wish to change your gender, we will advise you and assist you in preparing for gender reassignment surgery (SRS). Gender reassignment procedures are performed at the court.
[Gender Treatment]
Treatment includes hormonal therapy and gender-related surgery.
If, after careful consideration, you and your doctor decide that it is "better to proceed to physical treatment," you can move on to the next step, that is hormonal replacement therapy.
If you wish to undergo physical treatment such as mastectomy or gender reassignment surgery, we will discuss with you and select a suitable clinic and refer you. In addition, those who have undergone "gender reassignment surgery" can apply to the family court to "change the sex on the family register.
[Hormonal Replacement Therapy]
At our clinic, we can administer FTM (Female to Male) and MTF (Male to Female) hormones to facilitate change from a female's body into a male's and a male's body into a female's, respectively. However, it is dangerous to administer hormones on one's own judgment, as it may cause changes from the original healthy body, so please be sure to consult with us.
<Male Hormone>
FTM Hormonal Therapy
Injection: Short-term sustained male hormone (Enalmon Depot 125mg, 250mg), Long-term sustained male hormone (Nebido Generic), Topical Gel: (Glowmin)
・Main effects
Change in voice, hypertrichosis, enlargement of the clitoris, enlargement of the penis, hypersexuality, male gonadal dysfunction, eunuchism
・Main side effects
Hypersensitivity, abnormal liver function, pigmentation, myelofibrosis, aplastic anemia, renal anemia
<Female Hormone>
MTF Hormone Therapy
Injection Proginon Depot), paste (Estrana Tape), gel (Le Estrogel, Divigel), oral medication
Main effects
Functional uterine bleeding, symptoms of ovarian deficiency, oligomenorrhea, hypermenorrhea, dysmenorrhea, abnormal menstrual cycle, abnormal menstrual volume, uterine dysplasia, multiple menstruation
Main side effects
Hypersensitivity symptoms, recurrent psychiatric disorders, hypercalcemia, sodium retention, fluid retention, withdrawal blood, irregular bleeding, altered menstrual flow, mastalgia, breast tenderness, headache
[Blood tests and Hormone level testing required for hormone replacement therapy]
◆Blood set
Blood count, liver function, renal function, electrolytes, uric acid, CK, TG LDL HDL, blood glucose, HbA1c
🔸FTM (trans male)
Before ovariectomy : estrogen, testosterone
After ovariectomy : (estrogen), testosterone
🔸MTF (trans women)
Before vasectomy: estrogen, testosterone
After vasectomy: estrogen, (testosterone)
*For Trans women : Prolactin once a year
Cost
FTM injection fee
Short-lasting male hormone (Enalmon Depot 62.5mg)
:2,000 yen
Short-lasting male hormone (Enalmon Depot 125mg)
:2,500 yen
Mid-lasting male hormone (Enalmon Depot 250mg)
:3,500 yen
Long-lasting male hormone (generic NEBIDO): Cernos injection
:17,000 yen
FTM Topical Gel
Glowmin 4,500 yen
MTF injection fee
Short-lasting female hormone (proginone depot 10mg)
:2,500 yen
Short-lasting female hormone (proginone depot 20mg)
:3,500 yen
MTF Topical gel
Bastomin 4,500 yen
Initial consultation fee: 2,500 yen
Re-visit consultation fee: 1,000 yen
Online initial consultation fee: 2,500 yen
Online re-visit fee: 1,000 yen