ブログ
How to use PrEP online clinic (HIV prevention medication)
公開日|2022.02.16 更新日|2023.01.12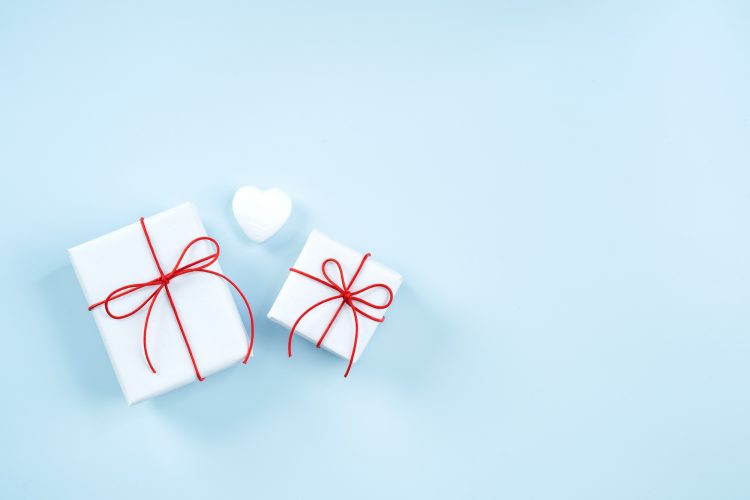 How to use PrEP online clinic (HIV prevention medication)
Do you want to start HIV prevention oral PrEP, but are hesitant to come to the clinic?
For example, because your house is far away, you don't have time, or you don't want someone to see you.
If so, PrEP's mail-in prescriptions are for you!
In this article, we will explain in detail the process from application to receiving your medication.
【Check!!】
◆Advantages of our PrEP mail prescription

・No need to visit the hospital to start taking PrEP (can be mailed anywhere in Japan)
・Contents and source of shipment are not revealed to family members.

・All tests required before taking the drug are included.

・Consultation during medication is free of charge.

・We analyze the ingredients of the medicines, so you can rest assured.

・Other STD tests (gonorrhea, chlamydia) are also available at a special price.
1.Apply for online medical treatment (telephone medical treatment)
In order to prescribe medication, you need to be examined by a doctor. Therefore, the first step is to apply for online medical treatment (telephone treatment).
【What you need】
・Smartphones that can use the LINE application
・Identity verification document (driver's license, etc.)
① Subscribe to the official LINE
If you have any questions or concerns that you want to confirm before PrEP starts, you can chat with us for free!
② Enter your name and date of birth and submit.
※If you don't do this, we won't be able to reply to you.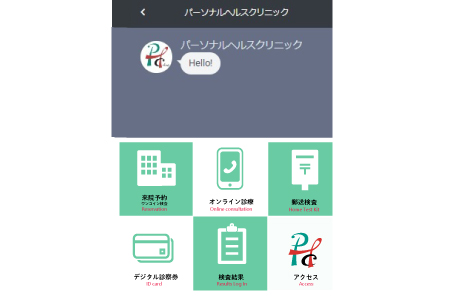 ③ Tap "Online Medical Appointment" in the menu bar on the line!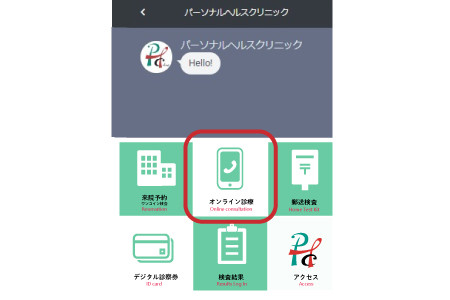 ④ When the reservation application opens, enter the necessary information.
※Online medical treatment requires identification, so enter your real name.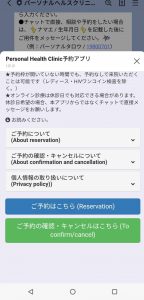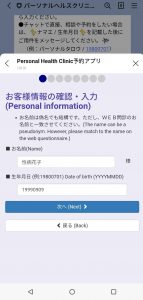 ⑤ Select "Online PrEP/PEP Prescription".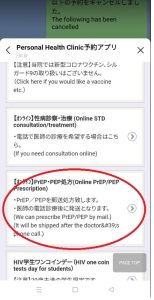 ⑥ Select the date and time you wish to receive medical treatment by phone.
You can call in at night and on Saturdays, so even the busiest people can use this service!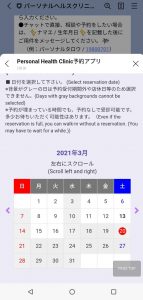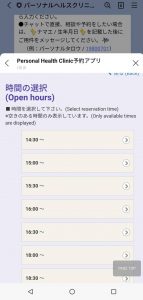 ⑥ Respond to the "web medical questionnaire" from the reservation completion message
Please note that your application will not be complete until you answer the "Web Questionnaire"!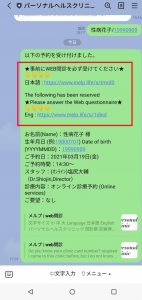 ⑦ Fill in the required information on the web-based medical questionnaire.
※Be careful not to fill in the wrong phone number! You will receive a call at this number later.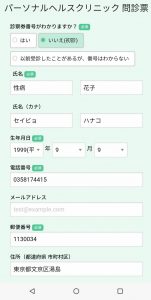 ⑧ Select "Postal Inspection/Online Medical Treatment" and then select "Yes (PrEP/PEP Consultation)!"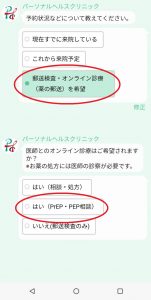 ⑧ Upload your personal identification documents and select a payment method.
※Please upload a photo of your driver's license, etc.
※LINEPay, bank transfer, and credit cards are accepted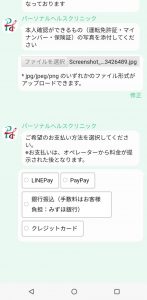 ⑨ Your application is now complete!
2.Use the phone to see a doctor.
After a confirmation message from our staff, a doctor will call you at your registered phone number.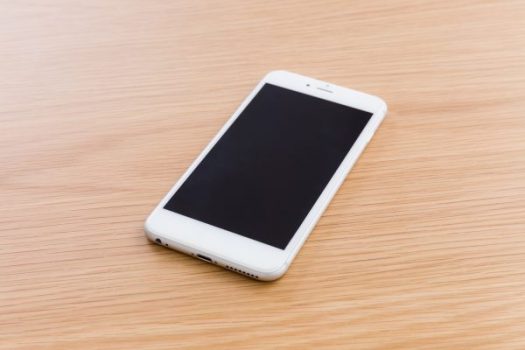 The main contents of the consultation are as follows (may vary slightly depending on the individual situation)
・Explanation of PrEP
・Consultation on how to drink (daily or on-demand), etc.
If you have any questions or concerns, please feel free to contact us.
3.Pay the fee
The staff will send you a message on line, and after confirming the contents, you will be asked to pay the fee.
① You will receive a message on LINE confirming the amount, payment method, etc.
The fees for PrEP are as follows. All fees include the cost of testing and medication.
・PrEP 1 month set (30 tablets)
⇨  11,000 yen(incl tax)
・PrEP 3 months set (90 tablets)
⇨  22,000 yen(incl tax)
※Shipping costs (1000 yen) and consultation fees (2,500 yen for the first visit and 1,000 yen for the second visit) will be charged separately.
②Pay the fee in the way you prefer.
As soon as we confirm your payment, we will mail you the test kit and medication.
4.You will receive your test kit and medication.
✔ You can choose to ship to an address other than your home, to a post office, or to a Yamato office.
✔  The packaging will not include the names of the clinics or drugs, so don't worry if you don't want your family to know!
※If you would like us to change the name of the shipper, etc., please contact us in advance.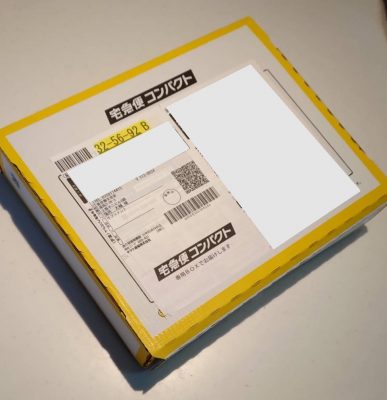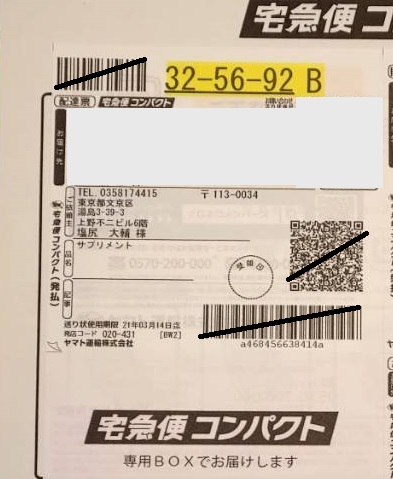 ⇩This is what it looks like when you open the inside.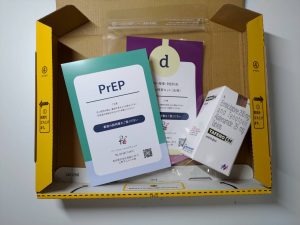 ① HIV test, Hepatitis B test, and Syphilis test are required to start PrEP.
Please check out this video on how to do the test.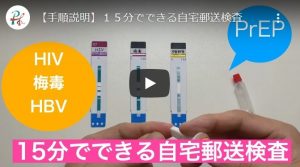 ② Please take a photo of the test results and send it to us on line.
③ If there are no problems after the test, you can start PrEP that day!
④ If you wish to have the optional test for gonorrhea and chlamydia / discharge , please collect your own specimen and return it to our clinic.
Test results can be checked online in 2-3 days after the specimen arrives at our clinic.
Click here to see how to check the test results.
※If you test positive, please consult with us separately if you wish to receive treatment.
5.Summary and inquiries
With our PrEP mail-in prescription, you don't have to visit the hospital.
✔ You can get a set of necessary tests at the time of start/while taking the drug.
✔ If you have any questions about how to take the product, you can easily consult with us on line.
✔ Medication can be prescribed for up to 3 months at a time (up to 1 month in case of personal import)
✔ Please consult with us about anything other than PrEP.(STD testing/remedies, ED medications, pills, etc.)
If you have any questions before your visit, please feel free to consult with us on line.
※We are not able to provide specialized explanations such as STD diagnosis.
※Please note that it may take some time for us to reply to you.
E-mail ➡Click here
Phone ➡03-5817-4415